Details

Category:

Latest News
Did you know that two in every ten children, zero to sixty months old are underweight and that three in every ten children zero to five years old are underheight for age?

These and other nutrition-related issues were discussed during a media forum conducted by the Nutrition Communication Network (NUTRICOMNET) at the DOST regional office in the City of San Fernando, Pampanga. 

The nutrition situationer on protein energy malnutrition (PEM)   and micro-nutrient deficiencies and their consequences, current issues on food safety, and the Philippine food fortification program were among the topics discussed during the forum.

Miss Maria IdeliaGlorioso, Nutritionist-Dietician and Salvador Serrano, Science Research Specialist from the Food and Nutrition Research Institute (FNRI-DOST) were the two discussants during the forum which was attended by representatives from other national government agencies as well as tri-media groups from print, television and radio.

According to them, the three key micro-nutrient deficiencies that are of public health concern are iron deficiency anemia (IDA), Vitamin A deficiency (VAD) and iodine deficiency disorders (IDD).

Infants and children suffering from IDA have retarded physical growth and have reduced resistance to infection leading to frequent illness. VAD, on the other hand, is manifested by nightblindness and rough, dry skin and membranes of nose and throat, while iodine deficiency results in severe physical and mental underdevelopment in children.

One of the strategies being used to address these issues is through the food fortification program as mandated by Republic Act No. 8976 or the Philippine Food Fortification Law of 2000. This law requires that one or more essential nutrients must be added to imported and locally processed foods for the purpose of preventing or correcting a demonstrated deficiency of one or more nutrients in the population or specific population groups.  However, it was mentioned that there is a need to intensify the enforcement of the law among food manufacturers and also sustained effort to inform the public of the benefits of fortified foods.


Mrs. Belen Q. Garcia, DOST-III Asst. Regional Director for Finance and Administrative Services, welcomes guests during the NUTRICOMNET media forum held at the DOST3 conference room last May 8, 2014.
Details

Category:

Latest News
Dr. Victor B. Mariano, Regional Director of the Department of Science and Technology Regional Office III, gives his opening remarks during the "Regional Seminar Workshop on Research Upgrading and Performance Evaluation".
National Scientist Lourdes N. Cruz led a group of academicians involved in promoting more research activities in the academe in a two-day seminar workshop that was aimed at upgrading research and performance evaluation. Spearheaded by the National Academy of Science and Technology (NAST-DOST), the seminar was held at the Philippine Carabao Center at the Science City of Munoz, Nueva Ecija last April 29-30, 2014.  It was attended by more than 60 research managers and staff from different state colleges and universities and private institutions of learning in Region III.     

Lecturers included Acd. Marco Nemesio Montano of the UP-Diliman Marine Science Institute who discussed ethics in R&D; Dr. Franco Teves of the Mindanao State University-Iligan Institute of Technology, who gave a lively discussion on scientific mentoring and formation of research groups. He also conducted a workshop on writing scientific articles for publication.

Other speakers were Dr. Roberto Pagulayan of the Angeles University Foundation, who discussed research performance evaluation in the academe; Dr. Eric Palacpac of the Philippine Carabao Center, who lectured on the R&D process flow at PCC. 

Ms. Maridon Sahagun also presented the DOST-GIA program which could be a source of funding for R&D projects that are aligned with identified DOST priorities.

The importance of patents and utility model registration in R&D was also emphasized.  This was discussed by Mr. Jerry Serapion of the Philippine Rice Research Institute.

The two-day seminar gave the participants an overview of the current state of R&D activities in the country. It was noted that the Philippines, with its high number of PhD graduates in the academe lags behind the other ASEAN neighbors in terms of research outputs which is an important contributor to economic development.  Thus, the participants were encouraged to do more collaborative research to maximize resources. 
Details

Category:

Latest News
Delivering on its mandate to improve and encourage the conduct of health-related researches in Region III, the Central Luzon Health Research and Development Consortium (CLHRDC) recently conducted two activities to achieve this objective.
The first activity entitled, Regional Forum on Inventions and ICT in Health was held last April 29, 2014 at the Nueva Ecija University of Science and Technology (NEUST) in Cabanatuan City. It was aimed at providing the participants with possible research areas in ICT applications in health.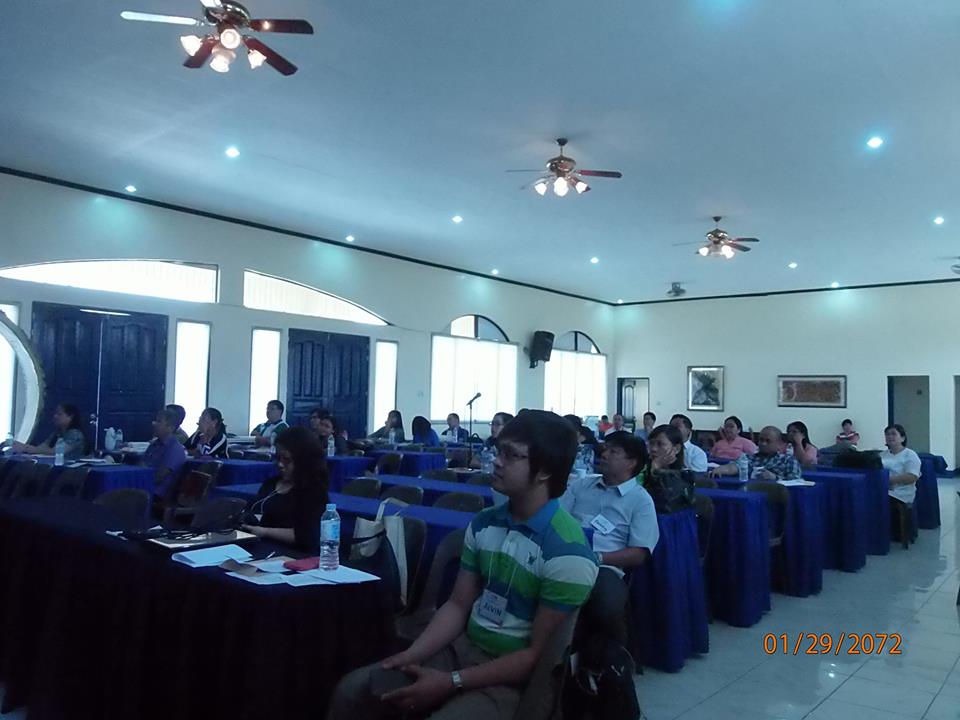 Participants of the Regional Forum 
                The second activity was the Symposium on Health Research Projects in Region III held last May 30 at the Systems Plus College Foundation (SPCF) in Angeles City. Completed researches from CLHRDC member- institutions were presented and judged in three categories, namely, Oral Research Presentation, Professional and Student Categories and Poster Research Presentation, Student Category. 1st and 2nd placers on both categories of the Oral Research Presentation earned the right to represent the region in the 8th Philippine National Health Research System Week Celebration in August this year.
                The following were declared winners in their respective categories.
Oral Research Presentation Professional Category:
First Place
Dr. Neil C. Tanquilut, (PAC)
Hypoglycemic Activity of Antidesma bunius L and
Mollugo oppositifolia L Fresh and Alcoholic Extracts
in the db/db Diabetic Mouse Model
            Second Place
Prof. Erwin C. Mina, (TSU)
Risk Evaluation of the Toxicity of Tubang
Amerikano (Jathropa multifida Linn.) Leaf Extract
            Third Place
Dr. Remedios D. San Jose (PAC)
Gross and Histopathological Evaluation of Selected
Internal Organs of Alloxan–Induced Diabetic Rats
(Rattus norvegicus) Treated with White Gourd Melon
(Benincasa hispida Cogn.) Extract
Oral Research Presentation Student Category
First Place
Jeuz Koz A. Gelyz, et al. (AUF)

Detection of Potential Anti-Quorum Sensing
Activity in Common Santan (Ixora chinensis Lam.)
Leaf Extracts on Pseudomonas aeruginosa
Second Place 
Mara Louella P. Sangilan, et al. (AUF)

Determinaton of the Anti-Angiogenic Activity
of White Angel (Holorrhena antidysenterica)
Leaf Extract Using Chorioallontoic Membrane Assay
Third Place
Daniel Ian M. Berber, et al. (BPSU)
Electronic Medical Record Using RFID Technology
Poster Research Presentation (Student Category)
First Place
Johnna N. Oliveria, et al. (BPSU)
Blood Glucose Monitoring System with SMS Technology
Second Place
Lei Vanette Alangui (AUF)
The Efficacy of Basil (Ocimum bacilicum) and
Bay (Laurus nobilis) as Repellent against
Common Houseflies (Musca domestica)
Ms. Jean N. Guillasper, head of the CLHRDC-Research Utilization, Information and Communication Committee and over-all chairperson of the two activities, said that they will continue to implement strategies that will enhance the capacity of its members to conduct R and D projects.
CLHRDC is tasked to improve and encourage more collaborative health research projects in Region 3. The Department of Science and Technology III acts as the consortium secretariat.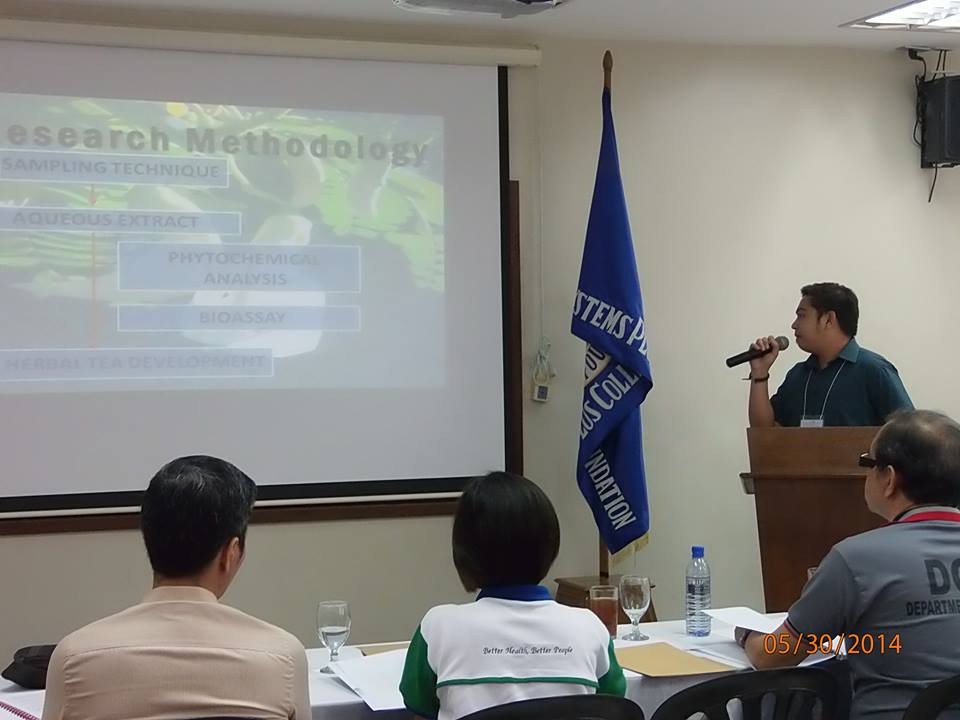 Prof. John Micah Gabriel, one of the finalists in the oral research presentation – professional category
Details

Category:

Latest News
Suppliers and distributors of petroleum products can now have their fuel delivery tankers calibrated for accuracy at the Metrology and Instrumentation Laboratory (MIL) of the Department of Science and Technology (DOST) located at Maimpis, City of San Fernando, Pampanga.

Engr. Wilbert Balingit, laboratory-in-charge, said that the new calibration service is being offered to serve the needs of local oil companies who are required by government regulations to have their road tankers calibrated for accuracy once a year. The DOST-MIL has the capacity to calibrate fuel tankers with capacities of 5,000 to 50,000 liters. The process usually takes from four up to eight hours depending on the capacity of the tankers. Test fees range from P600 to P3,900.

Once a tanker is calibrated according to the required standard, it is set and sealed and a certificate of calibration which is good for one year is issued. "It actually benefit both the supplier and the distributor as a calibrated road tanker protects against loss of fuel," added Engr. Balingit as he encouraged suppliers of petroleum products and owners of gasoline stations in the region to avail of the service.

With its expanded range of services, the DOST-MIL is also offering temperature calibration of refrigerated vans used for delivering meat products, both fresh and processed. This service is geared towards assisting food processing firms comply with regulations on the transport of said food products.

A road fuel tanker is shown being prepared for calibration at the DOST-MIL. Interested parties who may wish to avail of the service can contact the Regional Standards and Testing Laboratory (DOST-RSTL) at telephone numbers 045-455-0594.
Details

Category:

Latest News
"Iba na ang Panahon: Science for Safer Communities", thus Secretary Mario G. Montejo of the Department of Science and Technology (DOST), sounded the battlecry during the launch of a nationwide program designed to make our communities safer during calamities.
Speaking before local executive officials of Region III at the start of the two-day seminar held at the Oxford Prince Hotel, inside the Clark Economic Zone, last March 3-4, 2013,  Sec. Montejo lamented the result of a World Risk Report in 2012 which ranks the Philippines as third among countries which are most vulnerable to natural hazards. He said that we need to break out of a "vicious cycle of destruction and reconstruction" after each calamity. At least an average of 20 typhoons visits the country every year which also bring along other associated hazards like flooding, landslides and storm surges. There are also earthquakes and tsunamis. Calling the Philippines as a "disaster laboratory" Sec. Montejo emphasized the need for a coordinated plan to mitigate the effects of such disastrous natural events before, during and after they occur.
Citing the unprecedented damage caused by Typhoon Yolanda, Sec. Montejo said that the local officials on the ground prepared for a strong typhoon. However, post disaster assessment showed that more needs to be done in helping communities prepare strongertyphoons in the future.  He  enjoined the local executive officials present to be more proactive in disaster management in their respective areas. "The safety of your communities lie in your hands. With broad powers at your disposal, you should be able to provide a strong frontline to make sure your constituents are safe at the stroke of a disaster," the Science Secretary added.
Thus, the DOST is holding a series of roadshow information and communication campaign to help capacitate local government units respond better to natural calamities. Using available scientific tools and taking into account conditions inherent in a particular community, the seminars will provide knowhow which can serve as guides to local executives make the right decision by planning ahead. Through a process called disaster imagination, there will no longer be second guessing weather forecasts and alerts issued by authorities. Local officials will be able to anticipate and predict damage caused by, say a Storm Signal No. 3 alert based on their knowledge of community vulnerabilities, that is the kind of buildings and structures that will be destroyed in the face of such a storm signal. Said Secretary Montejo, "We hope to instill a culture of safety among our communities. By giving early warnings which should lead to early action, minimum loss of life and property and much faster recovery can be achieved. This should be the new normal."
Among the resource speakers during the two-day seminar were Dr. Renato Solidum of the Philippine Institute of Volcanology and Seismology (PHIVOLCS), Dr. Alfredo Mahar Lagmay of Project NOAH and Dr. Vicente Malano of PAGASA.
DOST Asst. Secretary Raymund Liboro answers a question from a member of the press during the media conference held in connection with the launching of the Science for Safer Communities "Iba na ang Panahon,"roadshow at Oxford Hotel, Clark Freeport Zone Pampanga