Details

Written by

Camille Sunglao

Category: Latest News
Hits: 865
Calling all Filipino youth!
We want to hear your voices on the COVID-19 Pandemic in the Philippines!
The Social Innovation in Health Initiative (SIHI) Philippines Hub, in collaboration with Social Entrepreneurship to Spur Health (SESH), Asian Medical Students' Association-Philippines, and other partner organizations are seeking Filipino youth's ideas on how they imagine the future after the COVID-19 pandemic. Submission of youth-led social innovation projects during the COVID-19 pandemic are also welcome.
To learn more about the open call, check out: http://bit.ly/youthopencall
Submit your entries to This email address is being protected from spambots. You need JavaScript enabled to view it.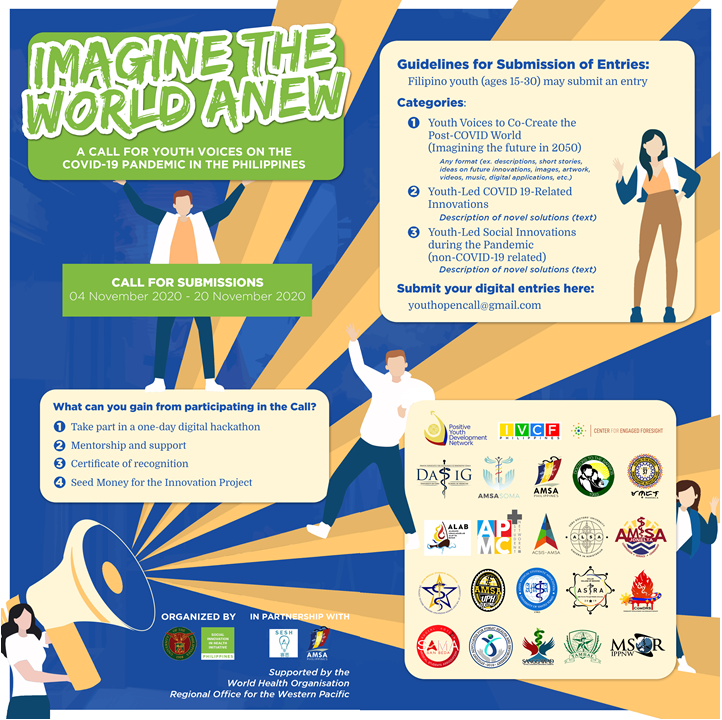 Details

Written by

Camille Sunglao

Category: Latest News
Hits: 955
Adjusting to the new normal, the Central Luzon Health Research and Development Consortium (CLHRDC) in partnership with the Central Luzon Center for Health Development (CLCHD-DOH) successfully conducted the first-ever online Central Luzon Health Research Forum last October 7-8, 2020. Now on its 5th year, this annual activity aims to provide a platform to present health-related researches activities that impact on regional as well as national health needs.  
In the opening program, Dr. Jaime Montoya, Executive Director of the Philippine Council for Health Research and Development (PCHRD-DOST) lauded the effort of the CLHRDC, saying, "By promoting health R&D as a tool to address the burden of COVID-19 to our community, this forum emphasizes the need to establish robust health research communities in both the regional and national levels, and the consortium contributes to the realization of this goal." He further added that this event is an excellent opportunity for young researchers to develop their skills in effectively communicating the results of their studies, as they will be at the forefront of searching health solutions in the future.
On the other hand, Dr. Julius Caesar V. Sicat, regional director of the Department of Science and Technology (DOST) in Central Luzon said that for the past 12 years, the consortium would not be able to conduct research activities without the valuable support and cooperation health of its member institutions. He emphasized the need to continue this culture in order to achieve our main goal to improve the health condition of the people in the region.
For his part, Dr. Cesar Cassion, CLCHD-DOH regional director said, "This global pandemic highlights the importance of research but let us not forget that we also need to continue to conduct research that address other priority health concerns to prevent another outbreak."
Also during the opening program, Dr. Eloisa Vidar, Medical Officer IV of CLCHD-DOH, presented the importance of research in the mitigation and control of COVID-19 pandemic.
Details

Written by

Daryll Sacdalan

Category: Latest News
Hits: 1192
Details

Written by

Daryll Sacdalan

Category: Latest News
Hits: 771
Details

Written by

Daryll Sacdalan

Category: Latest News
Hits: 1327
Details

Written by

Daryll Sacdalan

Category: Latest News
Hits: 1526