Details

Written by

Camille Sunglao

Category: Latest News
Hits: 2978
Details

Written by

Camille Sunglao

Category: Latest News
Hits: 1006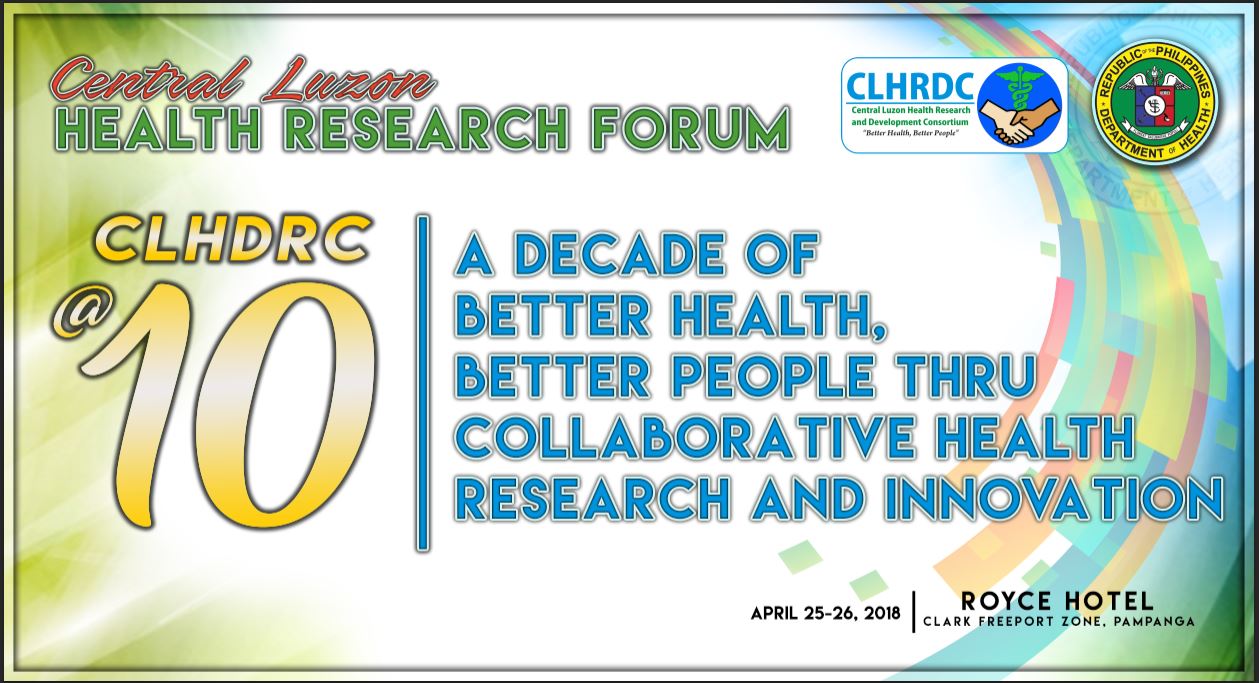 Details

Written by

Jessica Marie R. Suerte

Category: Latest News
Hits: 1412
PURPOSE
The DOST-PCHRD Undergraduate Thesis Grant in Natural Products provides fund support to all undergraduate students who will conduct their thesis on natural products. The program aims to sustain a research culture in natural products to increase the number of research and later on build a pool of researchers/experts specializing in the field. The program supports he Drug Discovery and Development program of the Department of Science and Technology-Philippine Council for Health Research and Development (DOST-PCHRD) which aims to develop safe, effective and affordable alternative drugs from the country's natural resources.
Thesis grants will be given to 2 undergraduate entries per region. After completion of the project, a competition will be held to selected qualified students to recognize innovative work on natural products.
NOMINATION PROCEDURES
1. Who can apply
All undergraduate students of Pharmacy, Chemistry, Nursing and Health and Allied Sciences who have thesis proposals on natural products may apply. The proposed thesis study must use plants indigenous in the region. The project must be completed a year after receiving the grant.
2. How to apply
Applicants should submit the following documents to the Regional Health Research and Development Consortium (RHRDC):
a) Duly accomplished prescribed research proposal form with college seal
b) Endorsement letter from the institution signed by the head of the university college dean
c) Soft copy of the proposal (word format) 
d) Hard copy of the proposal using A4 paper (3 copies)
e) Certificate of plant authentication
f) Appropriate clearances:
Bureau of Animal Industry clearance for studies involving animal subjects
Biosafety Clearance for studies involving genetic engineering and pathogenic organisms
National Commission on Indigenous Peoples Clearance for studies involving Indigenous Peoples
Gratuitous Permit from Biodiversity Management Bureau for studies involving collection of flora and fauna from DENR Protected Areas
Ethical clearance for studies involving human subjects
g) Curriculum vitae of the students and adviser using the prescribed form
SELECTION CRITERIA
The research proposals will be rated based on the following criteria:
Proposal evaluation
1. Technical merit
• Objectives are specific, measurable, attainable, relevant and time-bound
• The study design supports the objectives
• The study sample and methodology are appropriate
2. Data management
• The plan for data collection is clearly described
• Quality control procedures for data collection are in place
• Statistical analysis is well described
3. Relevance/Significance
• The study addresses an important health problem
• The study contributes to the advancement of scientific knowledge
4. Proponent/institution's capacity
• The investigators are qualified and appropriately trained to carry out the study
• The proposed study is appropriate to the experience level of the investigators
• The implementing/cooperating institution is capable of carrying out the proposed study
PROGRAM PROCESS
Deliberation of thesis grantees and winners will be based on the grading/rating during the en banc meeting and oral presentation, respectively.
SCREENING COMMITTEE MEMBERS
• Regional Health Research and Development Consortium - for prescreening
• UP Institute of Chemistry
• UST Research Center for the Natural Sciences
• DLSHSI Center for Biopharmaceutical Research
• Gruppo Medica Inc
• Herbanext Laboratories Inc.
THESIS GRANT
• Two (2) thesis proposals will be selected per region who will receive a grant amounting to a maximum of Fifty Thousand Pesos (P 50,000.00).
• The thesis fund will be deposited to the bank account of the thesis adviser and will be liquidated after the completion of the study
• A Memorandum of Agreement will be signed between the students, adviser, head of the institution and DOST-PCHRD
• The grant must be expended based on the approved line-item budget
CASH AWARD
After the oral presentation, fund support will be provided to the top 3 relevant and innovative thesis studies. Prizes will be distributed as follows:
| | |
| --- | --- |
| Frist prize = P 30,000.00 | P 20,000.00 for the student |
|   | P 10,000.00 for the adviser |
| Second prize = P 22,000.00 | P 15,000.00 for the student |
|   | P 7,000.00 for the adviser |
| Third prize = P 15,000.00 | P 10,000.00 for the student |
|   | P 5,000.00 for the adviser |
| Consolation prize | P 5,000 per group |
Finalists will receive a plaque of recognition.
TIMETABLE OF ACTIVITIES
| | |
| --- | --- |
| ACTIVITY | TARGET DATE |
| Dissemination and application of entries | January to March |
| Deadline of submission to the consortium | end of May |
| Deadline of submission to DOST-PCHRD | 2nd week of June |
| Selection of thesis grantees by the Selection Committee | June to July |
| Conduct of study | August to May of the succeeding year |
| Submission of completed studies to DOST-PCHRD | 1st  week of June of the succeeding year |
| Selection of oral presentors by the Selection Committee | June to July |
| Oral Presentation and Announcement of Winners | August |
Details

Written by

Daryll Sacdalan

Category: Latest News
Hits: 1988
The Central Luzon Health Research and Development Consortium (CLHRDC) is now accepting papers that are aligned with the following research areas namely:  Health Technology Development, Health Financing, Health Service Delivery and Socio-Environmental Health Concerns.
The Oral Research Presentation and Poster Presentation are divided into two categories:
1) Professional
2) Student
SUBMISSIONS
The paper to be submitted for the Professional Category should be completed at least the year 2016; and 2017 for the student category.
Submit an extended abstract (1000 words) divided into five parts:
1) Introduction (including a brief and concise abstract
2) Objective
3) Methodology
4) Results and discussion
5) Conclusion
**Please include the title, headings and key words on the topic investigated
Also, if applicable, please attach research authorization/clearance/permit
-For studies which involved humans:
ü  Ethics clearance
ü  National Commission on Indigenous People (NCIP) permit, if applicable
-For studies which used biological materials where genetic manipulation is involved or introduction of exotic or imported plants, microorganisms or animals:
ü  Biosafety permit
-For studies conducted on animals:
ü  Bureau of Animal Industry (BAI) authorization
-For studies which covered the protected areas of the Department of Environment and Natural Resources (DENR):
ü  Gratuitous permit
Note: ALL SUBMISSIONS MUST BE IN PORTABLE DOCUMENT FORMAT (PDF) AND SEND TO: This email address is being protected from spambots. You need JavaScript enabled to view it.
KEY DATES AND TIMELINE
| | | |
| --- | --- | --- |
| ACTIVITIES | PROPOSED DATES | RESPONSIBLE |
| Deadline of submission of extended abstracts | Feb. 15, 2018 | Secretariat |
| Screening of submitted abstracts | Feb. 22, 2018 | CLHRDC-RUICC, DOH-RO3 |
| Announcement of selected entries | March 7, 2018 | CLHRDC-RUICC, DOH-RO3 |
| Contest Proper | To be announced | CLHRDC-RUICC, DOH-RO3 |
| Announcement of winners | To be announced | CLHRDC-RUICC, DOH-RO3 |
SCREENING
1.       A selection committee specific to professional and student researches will be formed to evaluate submissions.
2.       In consideration of the maximum number of researches that can participate in the oral research presentation, the committee will select from among the submissions the researches for the poster exhibit contest.
3.       The selected participants of the oral research presentation and poster exhibit contest will be informed after the screening.
Details

Written by

Daryll Sacdalan

Category: Latest News
Hits: 2011
The Central Luzon Health Research and Development Consortium- Capacity Building Committee recently conducted  a "Training Workshop on Animal Handling and Laboratory Facility Registration and Accreditation" to promote ethical and proper care and use of experimental animals for scientific research and testing. This is in line with the provisions of the Animal Welfare Act of 1998 and its corresponding implementing rules and regulations on the conduct of scientific procedures using quality laboratory animals (DA-AO No. 40). It is also intended to assist CLHRDC research institutions to establish their respective Institutional Animal Care and Use Committees (IACUC).
The lectures were held at the Imerex Plaza Hotel, Angeles City, Pampanga while the workshop was held at Holy Angel University- Laboratory last October 26-27, 2017. It was attended by 30 participants from 13 member-institutions of CLHRDC. Dr. Maria Amelita C. Estacio and Dr. Melissa Marie R. Rondina, President and Secretary of the Philippine Association for Animal Laboratory Science (PALAS) were the key resource persons during the 2-day activity.
The training provided the participants the basics on the proper handling and care of laboratory animals, most commonly, mice, by following the standards designed to ensure comfort and safety of laboratory animals.  Through the actual demonstration and hands-on training, the participants were able to perform some laboratory techniques such as drug administration, blood collection via different routes (intracardiac and intraorbital) and euthanasia.
Also part of the training workshop was an orientation on the requirements of IACUC accreditation, qualifications and responsibilities of its members and the process of protocol review before conducting researches involving animals.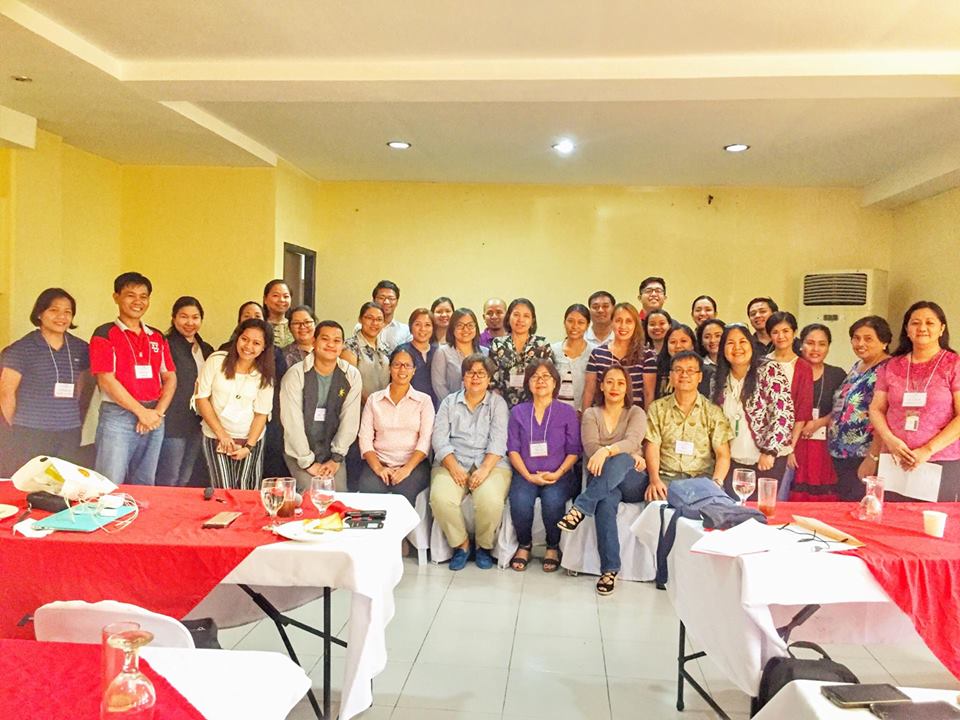 The participants and CBC members together with Dr. Estacio and Dr. Rondina 
Details

Written by

Daryll Sacdalan

Category: Latest News
Hits: 2009
The Central Luzon Health Research and Development Consortium (CLHRDC) recently participated in the 11th Philippine National Health Research System (PNHRS) week held on August 24-25, 2017 at the Philippine International Convention Center (PICC) in Pasay City. This year's celebration focused on the theme, "Research Innovations in Health: Empowering and Transforming Communities," to highlight the challenges and roles of health research in empowering and improving the health status of Filipinos especially those living in marginalized communities. 
As part of the celebration, plenary and parallel sessions were held to address different topics such as Drug Addiction and Mental Health, Islands of Wealth and Wellness, The Health of Marawi and the Contributed Papers such as Alternative Gender-Aware Indices for Measuring Poverty: Implications for HealthCare for the Poor and Innovative Strategy Towards Sustainable Control and Elimination of Schistosomiasis in the Philippines.
The celebration also served as venue to showcase and recognized exemplary health researches done by students and professional researchers from different regions through oral and poster presentations. Dr. Jacqueline V. Bagunu of Pampanga State Agricultural University, bagged  3rd place in the poster exhibit contest with her study entitled: "Isolation and Molecular Identification of Lactic Acid Bacteria (LAB) from Nile Tilapia (Oreochromis niloticus) as Potential Pathogen Antagonist", while Ms. Ivy Joyce A. Buan of Nueva Ecija University of Science and Technology, presented her study: "Computational Study of Bioactive Components of Sweet Basil (Ocimum basilicum linn.), Luyang Dilaw (Curcuma longa linn.), and Lagundi (Vitex negundo) as Inhibitor against Human Immunodeficiency Virus (HIV-1) in oral research category.
The CLHRDC- Ethics Review Committee was also awarded with a Level 1 accreditation by the Philippine Health Research Ethics Board (PHREB), which permits it to review research proposals that have minimal risk to participants. Other CLHRDC member institutions like Tarlac State University also received their Level 1 accreditation while Angeles University Foundation's Level 3 license was renewed which allows them to review research proposals involving clinical trials. In addition to this, CLHRDC was also recognized for having the most updated official website among the health consortia.
With these milestones, CLHRDC is inspired all the more to deliver quality health-related researches as it continues to exert more of its capabilities to improve and encourage stronger collaborative health research projects that will improve the general health status of people and communities in Region 3.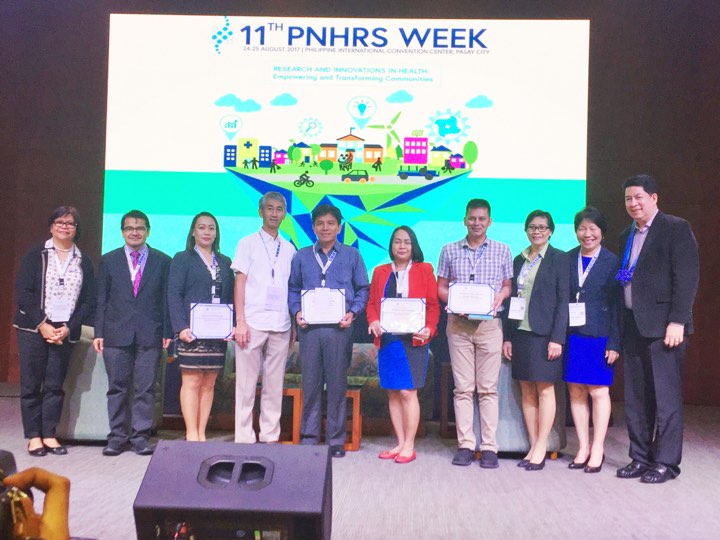 CLHRDC representatives, Dr. Jean N. Guillasper and Mr. Wilfredo F. SIbal (3rd and 4th from left, respectively), accept the Consortium's certificate
of accreditation Level 1 from the PHREB