The Central Luzon Health Research and Development Consortium (CLHRDC) in partnership with the Department of Health RO3 successfully conducted the 1st Central Luzon Health Research Forum with the theme, "Translational Research: Addressing Health Inequities in Central Luzon" last April 25-26, 2017 at Subic Bay Travelers Hotel, Subic Freeport Zone. The forum provided a platform to link institutions engaged in or with interest in health research activities to explore ideas on topics that impact regional as well as national needs.
Dr. Julius Caesar V. Sicat, Regional Director of DOST III and Chairman of CLHRDC, who was also a member of the panel of evaluators stressed the need to align health research projects with the 10- point development agenda of the administration of President Rodrigo Duterte, adding that proposals geared towards the priority areas identified in the National Unified Health Research Agenda (NUHRA) has better chances of being approved for funding. "We should be thinking of the research output as something that will benefit not only the people we serve but also our institutions, our families and ourselves. The products of our minds should be economically viable, sustainable and beneficial", Dr. Sicat added. He also announced that the Region III will be hosting the Philippine National Health Research System Week next year.
Researchers from higher education institutions, local government units, public and private hospitals participated in the competing and non-competing categories. In addition, authors of published research papers presented their studies and shared their experience in publishing in reputable journals. Researches presented ranged from health technology development, health financing, health service delivery and socio-environmental health concerns.
The following were declared winners in the professional and student categories. The 1st and 2nd placers in both categories will represent Region III in the upcoming Philippine National Health Research Systems (PNHRS) Week Celebration in August.
Oral Research Presentation (Professional Category)
1st place – Ivy Joyce A. Buan and Danilet Vi M. Mendoza (NEUST)
Computational Study of Bioactive Components of Sweet Basil (Ocimum basilicum linn.), Luyang Dilaw (Curcuma longa linn.) and Lagundi (Vitex negundo) as Inhibitor against Human Immunodeficiency Virus (HIV-1)
2nd place – Jacqueline V. Bagunu, et al. (PSAU)            
Isolation and Molecular Identification of Lactic Acid bacteria (LAB) from Nile Tilapia (Oreo-chromis niloticus) as Potential Pathogen Antagonist
3rd place – Kay Ann J. Tongol, et al. (WUP)
Assessment of the Antioxidant and Cholesterol- Lowering Activity of Artocarpus ovatus Blanco (Moraceae) Leaf Extract
                   Geraldine C. Sanchez, et al. (PSAU)
Hypocholesterolemic Effects of ICRISAT-bred Pigeon pea Dried Leaves fed in White Mice Fed with High Cholesterol Diet
Oral Research Presentation (Student Category)
1st place – Aileen A. Gutierrez, et al. (AUF)
Determining the Anti-angiogenic and Cytotoxic Activity of the Crude Ethanolic Extract from Saccharum spontaneum linn (Talahib) on Duck Eggs and Human Breast Cancer Cells Lines (MCF7)
2nd place - Kayeslyn Jill F. Sanchez, et al. (AUF)
The Effectiveness of Short Messaging Service (SMS) as a Strategy to Improve Adherence to TB Service in Angeles City: A Randomized Control Study
3rd place - Ruiza U. Ismael, et al. (AUF)
In Vitro Cytotoxicity of Allamandra Cathartica L. Leaf Ethanol extract against A549 Human Lung Adenocarcinoma
Aside from the forum, the event also served as an avenue to strengthen linkages among public and private research institutions in Central Luzon.
CLHRDC is committed in generating health- related researchers to help improve the health conditions of the people in Central Luzon and will continue its effort to improve and encourage more collaborative health research projects in Region III.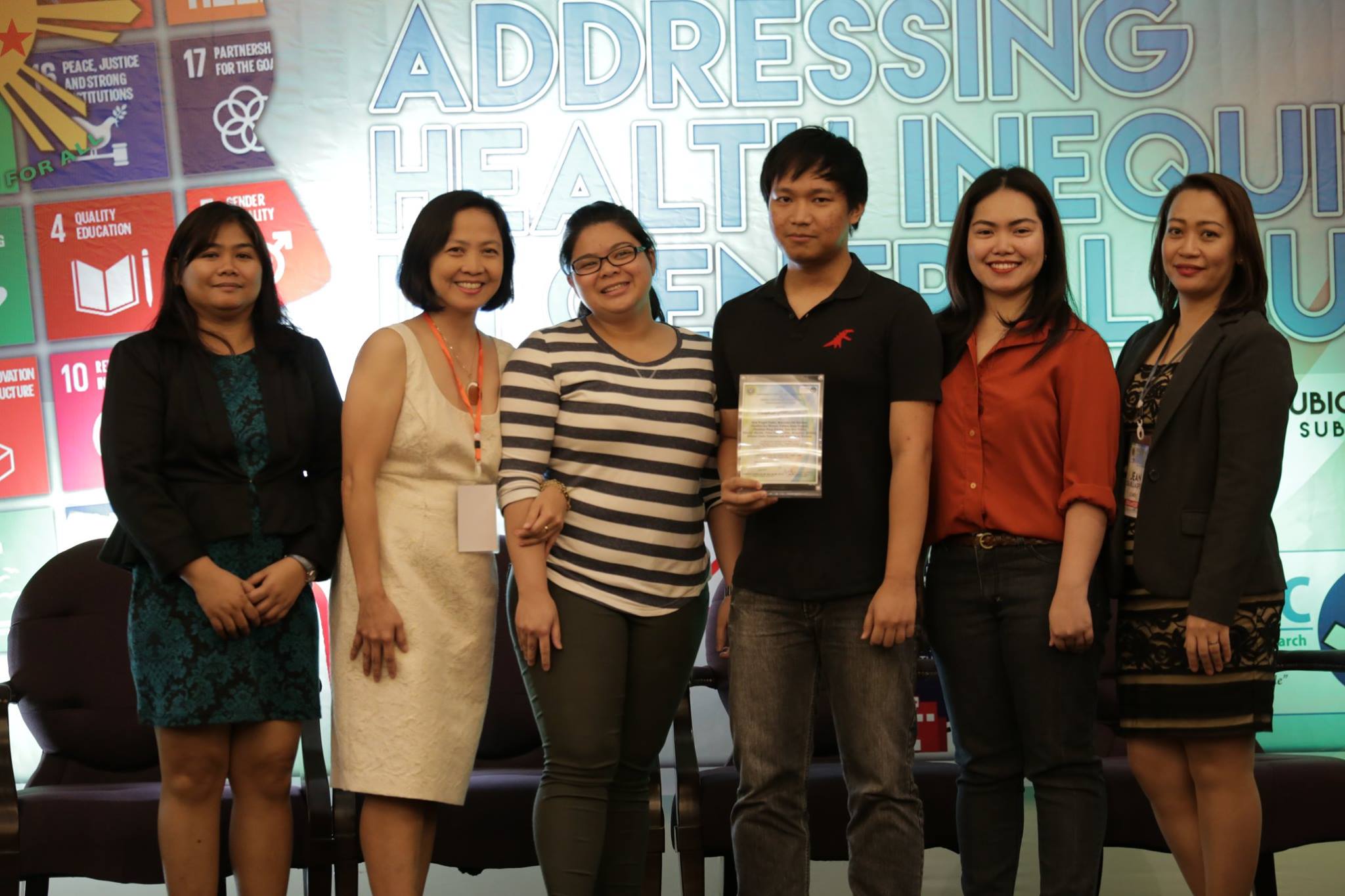 Mr. Kim Vergel Cudia of Angeles University Foundation received their award as 3rd place in the Oral Research Presentation (Student Category) for their project.