Details

Written by

Daryll Sacdalan

Category: Latest News
Hits: 2009
The Central Luzon Health Research and Development Consortium (CLHRDC) recently participated in the 11th Philippine National Health Research System (PNHRS) week held on August 24-25, 2017 at the Philippine International Convention Center (PICC) in Pasay City. This year's celebration focused on the theme, "Research Innovations in Health: Empowering and Transforming Communities," to highlight the challenges and roles of health research in empowering and improving the health status of Filipinos especially those living in marginalized communities. 
As part of the celebration, plenary and parallel sessions were held to address different topics such as Drug Addiction and Mental Health, Islands of Wealth and Wellness, The Health of Marawi and the Contributed Papers such as Alternative Gender-Aware Indices for Measuring Poverty: Implications for HealthCare for the Poor and Innovative Strategy Towards Sustainable Control and Elimination of Schistosomiasis in the Philippines.
The celebration also served as venue to showcase and recognized exemplary health researches done by students and professional researchers from different regions through oral and poster presentations. Dr. Jacqueline V. Bagunu of Pampanga State Agricultural University, bagged  3rd place in the poster exhibit contest with her study entitled: "Isolation and Molecular Identification of Lactic Acid Bacteria (LAB) from Nile Tilapia (Oreochromis niloticus) as Potential Pathogen Antagonist", while Ms. Ivy Joyce A. Buan of Nueva Ecija University of Science and Technology, presented her study: "Computational Study of Bioactive Components of Sweet Basil (Ocimum basilicum linn.), Luyang Dilaw (Curcuma longa linn.), and Lagundi (Vitex negundo) as Inhibitor against Human Immunodeficiency Virus (HIV-1) in oral research category.
The CLHRDC- Ethics Review Committee was also awarded with a Level 1 accreditation by the Philippine Health Research Ethics Board (PHREB), which permits it to review research proposals that have minimal risk to participants. Other CLHRDC member institutions like Tarlac State University also received their Level 1 accreditation while Angeles University Foundation's Level 3 license was renewed which allows them to review research proposals involving clinical trials. In addition to this, CLHRDC was also recognized for having the most updated official website among the health consortia.
With these milestones, CLHRDC is inspired all the more to deliver quality health-related researches as it continues to exert more of its capabilities to improve and encourage stronger collaborative health research projects that will improve the general health status of people and communities in Region 3.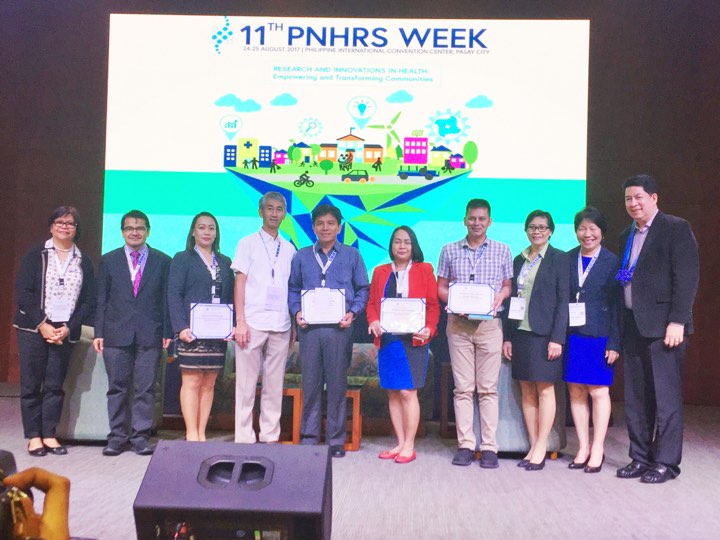 CLHRDC representatives, Dr. Jean N. Guillasper and Mr. Wilfredo F. SIbal (3rd and 4th from left, respectively), accept the Consortium's certificate
of accreditation Level 1 from the PHREB