12 research areas that seeks to address health-related concerns in Central Luzon were identified during a consultation workshop spearheaded by Central Luzon Health Research and Development Consortium (CLHRDC) last April 27-28,2017 in Angeles City.
Together with the Philippine National Health Research System (PNHRS), the activity was facilitated by the Alliance for Improving Health Outcomes (AIHO), a non-stock, non-profit, public health consulting firm that was commissioned by the PCHRD-DOST to assist regional health R&D consortium in coming up their respective regional R&D agenda. Following the National Guidelines for Health Research Prioritization developed by the PNHRS, workshop participants were able to identify the following Health Research Priorities during the consultation:
1.Nutrition and Safety

7.  Communicable Diseases (STI, HIV and AIDS, TB, vector-borne disease and other emerging and reemerging disease)

 

2. Maternal and Child Health

8.  Disaster Risk Reduction Management for Health

 

3. Technology and Innovations for Health

9.  Diseases of Urbanization and Industrialization (Environmental Health, Mental Health)

 

4. Sexual and Reproductive Health (e.g adolescent)

 

10. Health of Aging Population

5. Health Service Delivery and Health Workforce

 

11. Health Research Governance

 

6. Financial Risk Protection

12. Indigenous People's Health

The draft document which will later become the Regional Unified Health Research Agenda was formulated with inputs from multi-sectoral participants from government agencies like Department of Health RO3, Department of Science and Technology III, Philippine Health Insurance Corporation, Provincial Health Office and the Commission on Population Region III, Higher Education Institutions like Angeles University Foundation, Republic Central Colleges, University of the Assumption, Ramon Magsaysay Technological University, Wesleyan University, Bulacan State University and Pampanga State Agricultural University, as well as Government Hospitals such as Mariveles Mental Hospital, and other organizations such as Integrated Midwives' Association of the Philippines and Pampanga Medical Society.
Similar consultation workshops were also held in the different regions of the country. The consolidated output from these consultations will be incorporated into the National Unified Health Research Agenda (NUHRA) and will be launched in the upcoming PNHRS Week Celebrations in August 2017 at the PICC. It will also be disseminated through newsletters, publications, organizations' official websites and a formal document that will be sent to all the stakeholders. It is envisioned to be monitored and revisited every two (2) years for the progress and status of the set priorities.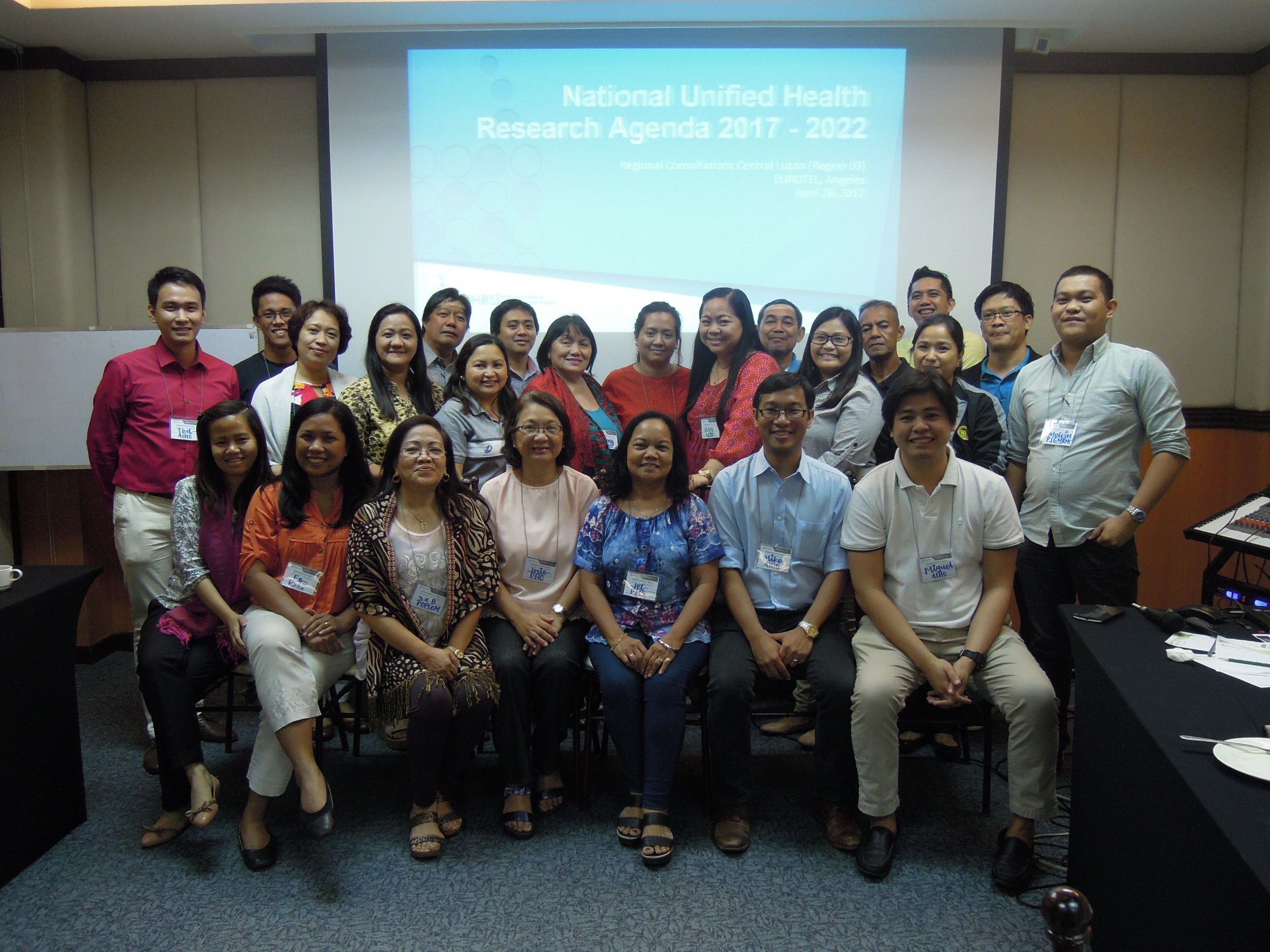 Participants from different institutions with the AIHO members