Check out our Digital Poster Exhibit Contest (Professional Category) of the 8th Central Luzon Health Research Forum!

In cooperation with the 𝘾𝙚𝙣𝙩𝙧𝙖𝙡 𝙇𝙪𝙯𝙤𝙣 𝘾𝙚𝙣𝙩𝙚𝙧 𝙛𝙤𝙧 𝙃𝙚𝙖𝙡𝙩𝙝 𝘿𝙚𝙫𝙚𝙡𝙤𝙥𝙢𝙚𝙣𝙩, the 𝟖𝐭𝐡 𝐂𝐋𝐇𝐑𝐅 will be held on 13-14 April 2023 at Best Western Metro Clark, Angeles City. The winners will be announced during the Closing Ceremonies on 14 April 2023.
To like or react, comment, and share the poster you think is the most attractive, well-organized, and significant, you may visit our social media account at www.facebook.com/clhrdc.region3. The poster that will garner the most number of reactions and shares until 13 April (4:00 pm) will win the People's Choice award.
Furthermore, Please use the hashtags #8thCLHRF #healthresearchph #CLHRDC #CLCHD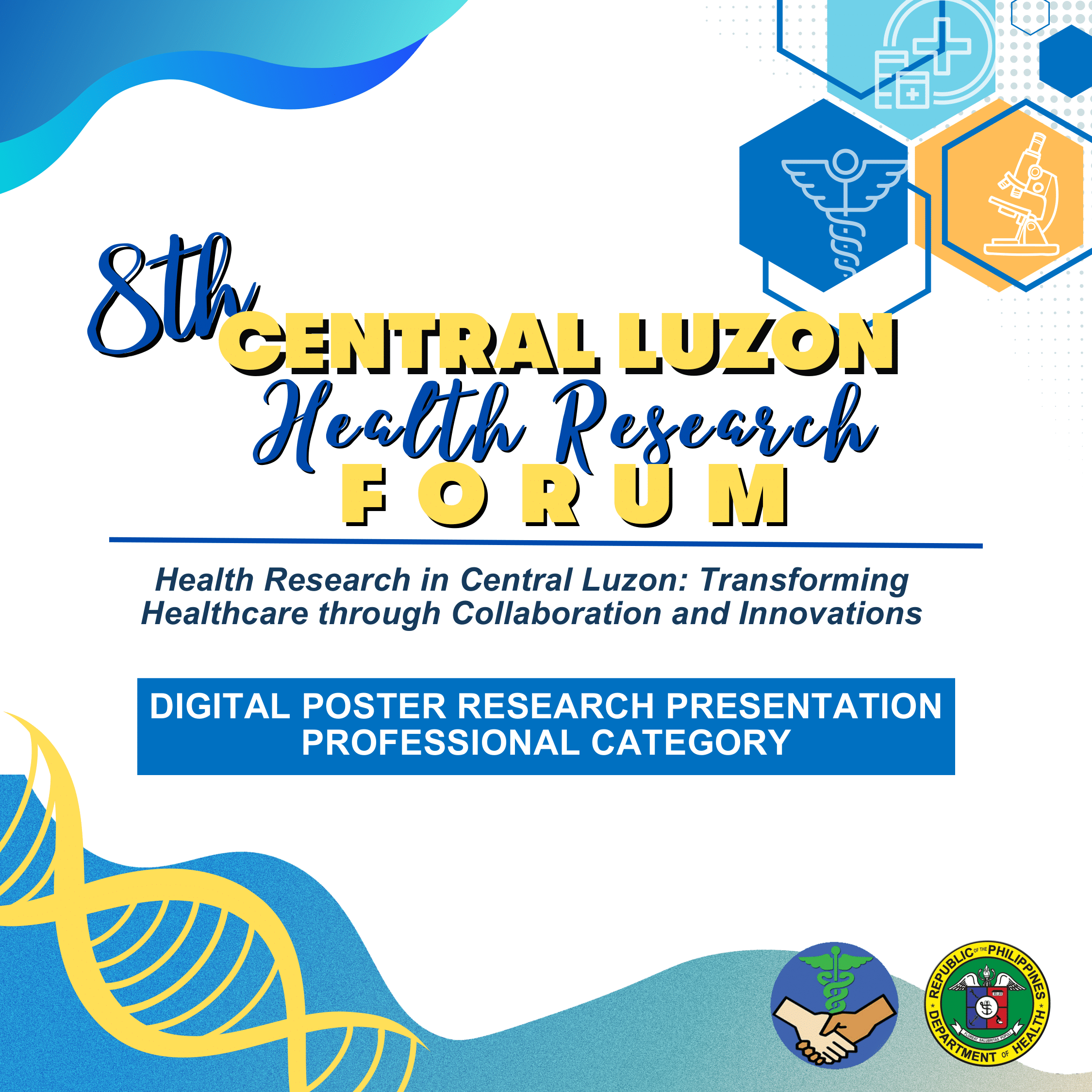 #1 Role of Self-Discipline and Psychological Counseling among Student Nurses in Distance Education: Basis for an Action Plan
Researchers: Jonathan M. Ocampo, RN, EdD, PhD
John Christian V. Villanueva, RN, PhD
Institution: Wesleyan University Philippines, Dr. Gloria D. Lacson Foundation Colleges Inc., Systems Plus College Foundation, and Department of Education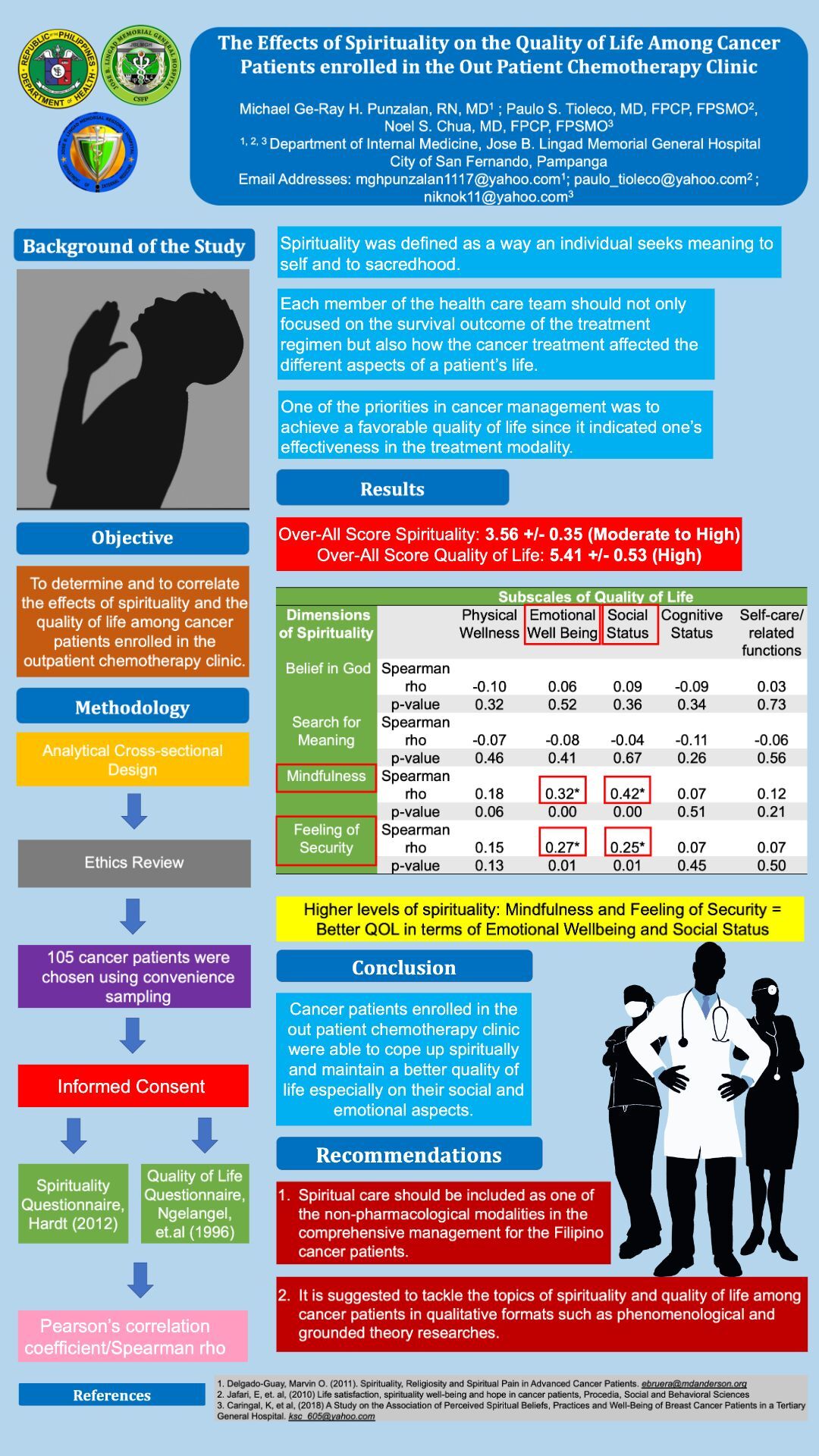 #2 The Effects of Spirituality on the Quality of Life among Cancer Patients enrolled in the Out Patient Chemotherapy Clinic
Researcher: Michael Ge-Ray H. Punzalan, MD
Institution: Jose B. Lingad Memorial General Hospital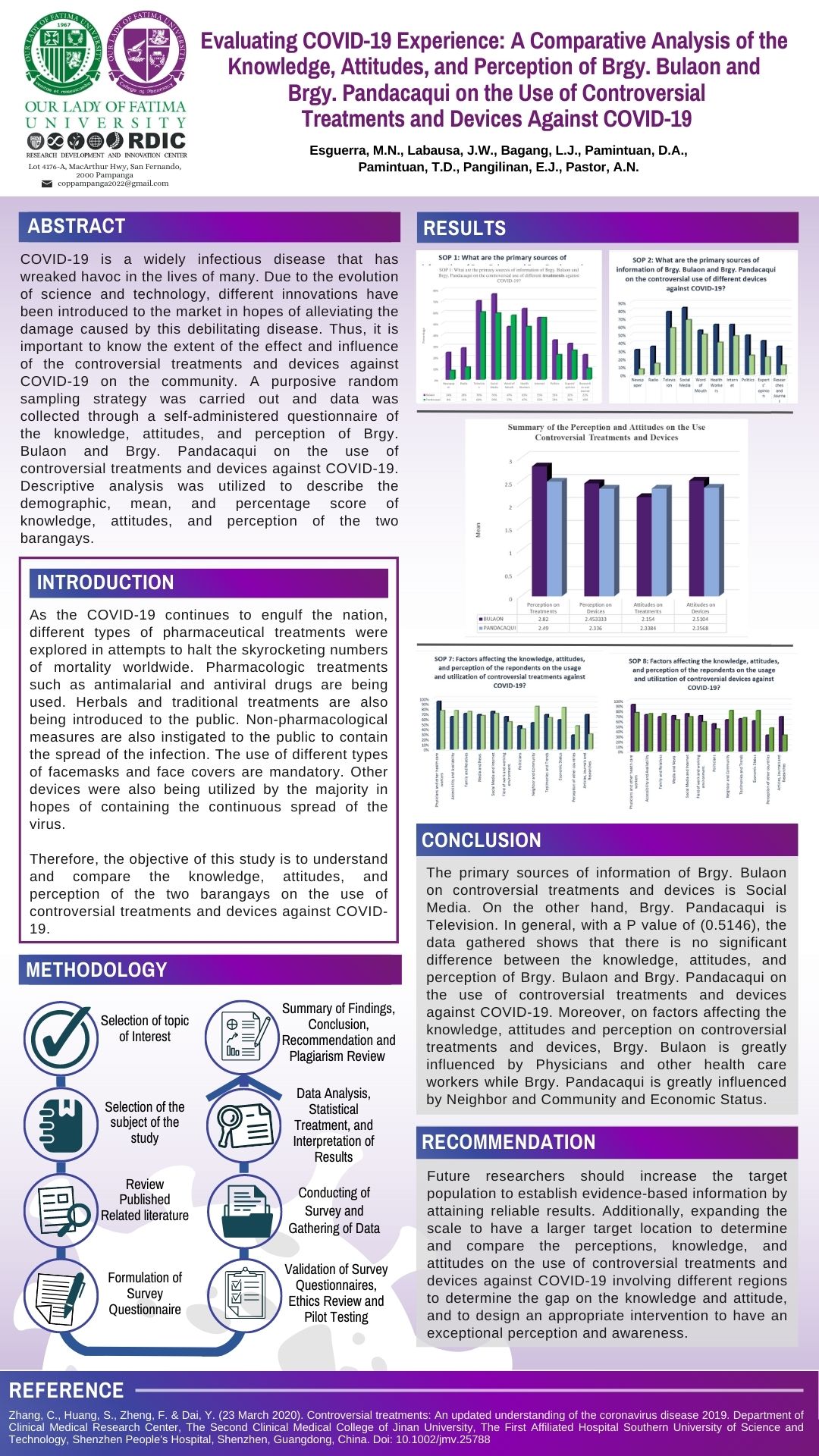 #3 Evaluating COVID-19 Experience: A Comparative Analysis of the Knowledge, Attitudes, and Perception of Brgy. Bulaon and Brgy. Pandacaqui on the Use of Controversial Treatments and Devices against COVID-19
Researcher: Prof. Mariel Niña M. Esguerra
Institution: Our Lady of Fatima University – Pampanga Campus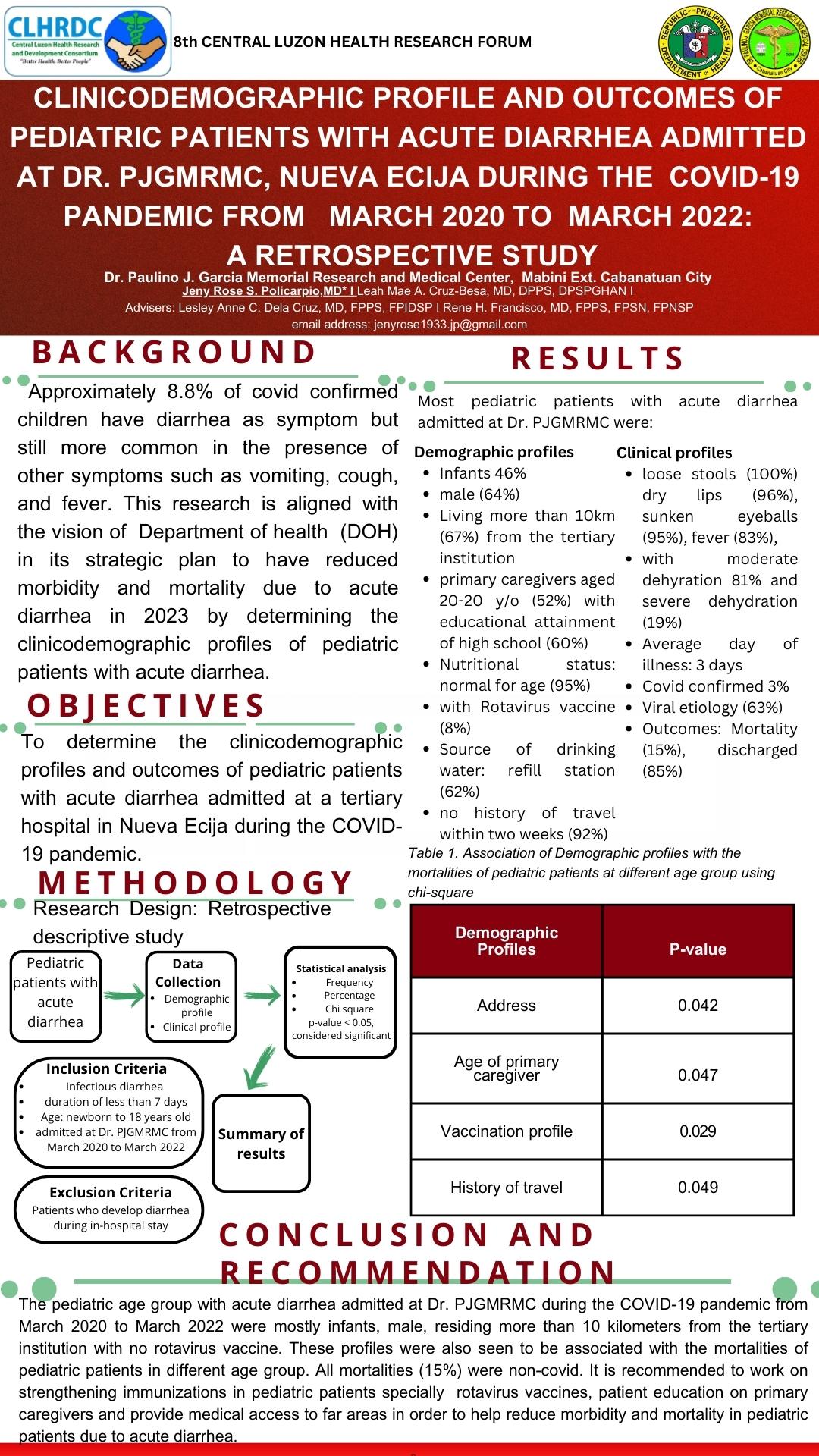 #4 Clinicodemographic Profile and Outcomes of Pediatric Patients with Acute Diarrhea admitted at Dr. PJGMRMC, Nueva Ecija during the COVID-19 Pandemic from March 2020 to March 2022: A Retrospective Study
Reseacher: Jeny Rose S. Policarpio, MD
Institution: Dr. Paulino J. Garcia Memorial Research and Medical Center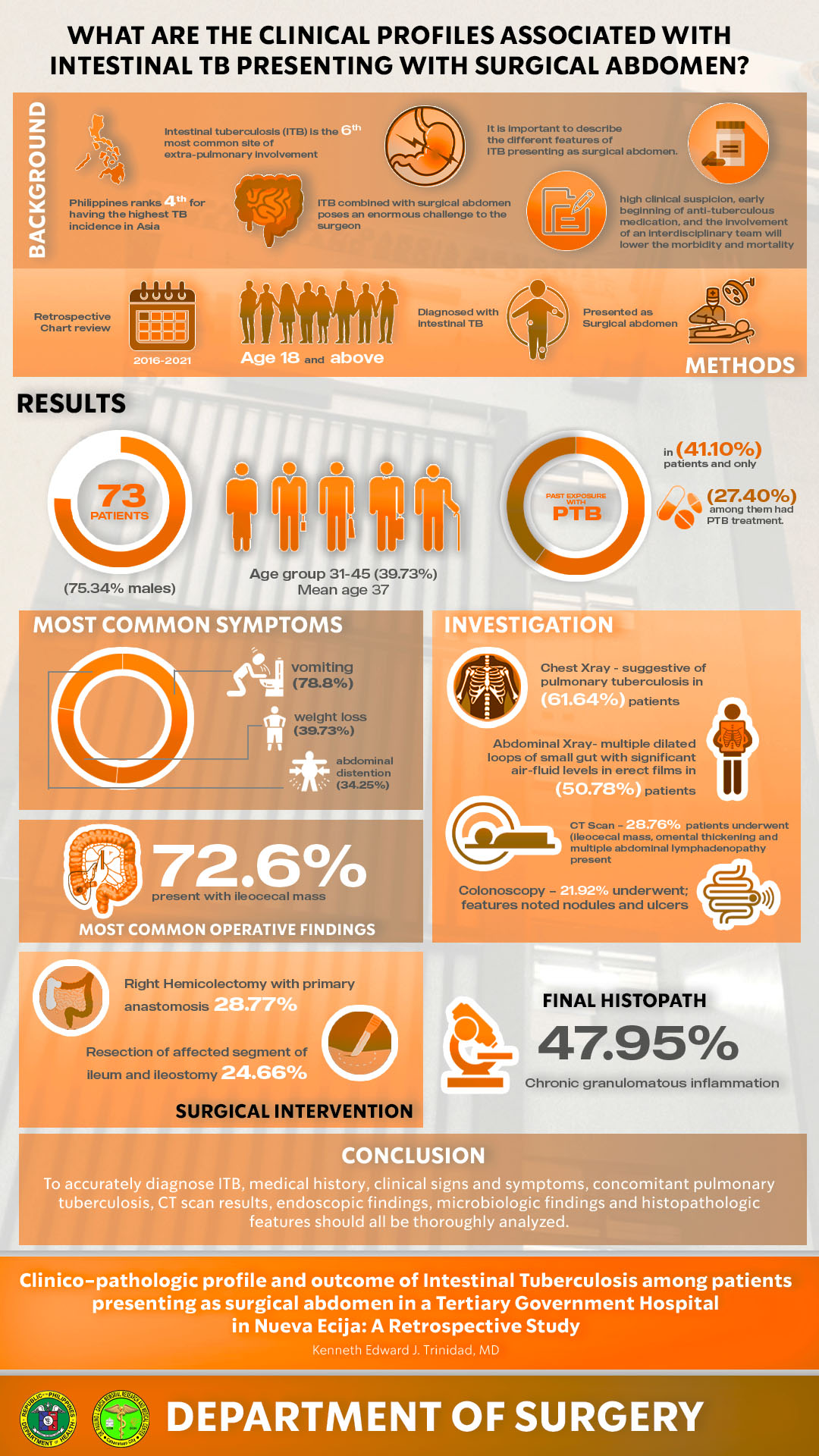 #5 Clinico-pathologic Profile and Outcome of Intestinal Tuberculosis among Patients Presenting as Surgical Abdomen in a Tertiary Government Hospital in Nueva Ecija: A Retrospective Study
Researcher: Kenneth Edward J. Trinidad, MD
Institution: Dr. Paulino J. Garcia Memorial Research and Medical Center
#7 Exploring the Struggles, Trials, and Resilience Captured from the Experiences of COVID-19 Filipino Patients
Researchers: Ruby S. Matibag, RN, EdD, Christian Jay S. Orte, RN, PhD, and Monica T. Hipolito, RM, BSM
Institutions: Bataan Peninsula State University, Systems Plus College Foundation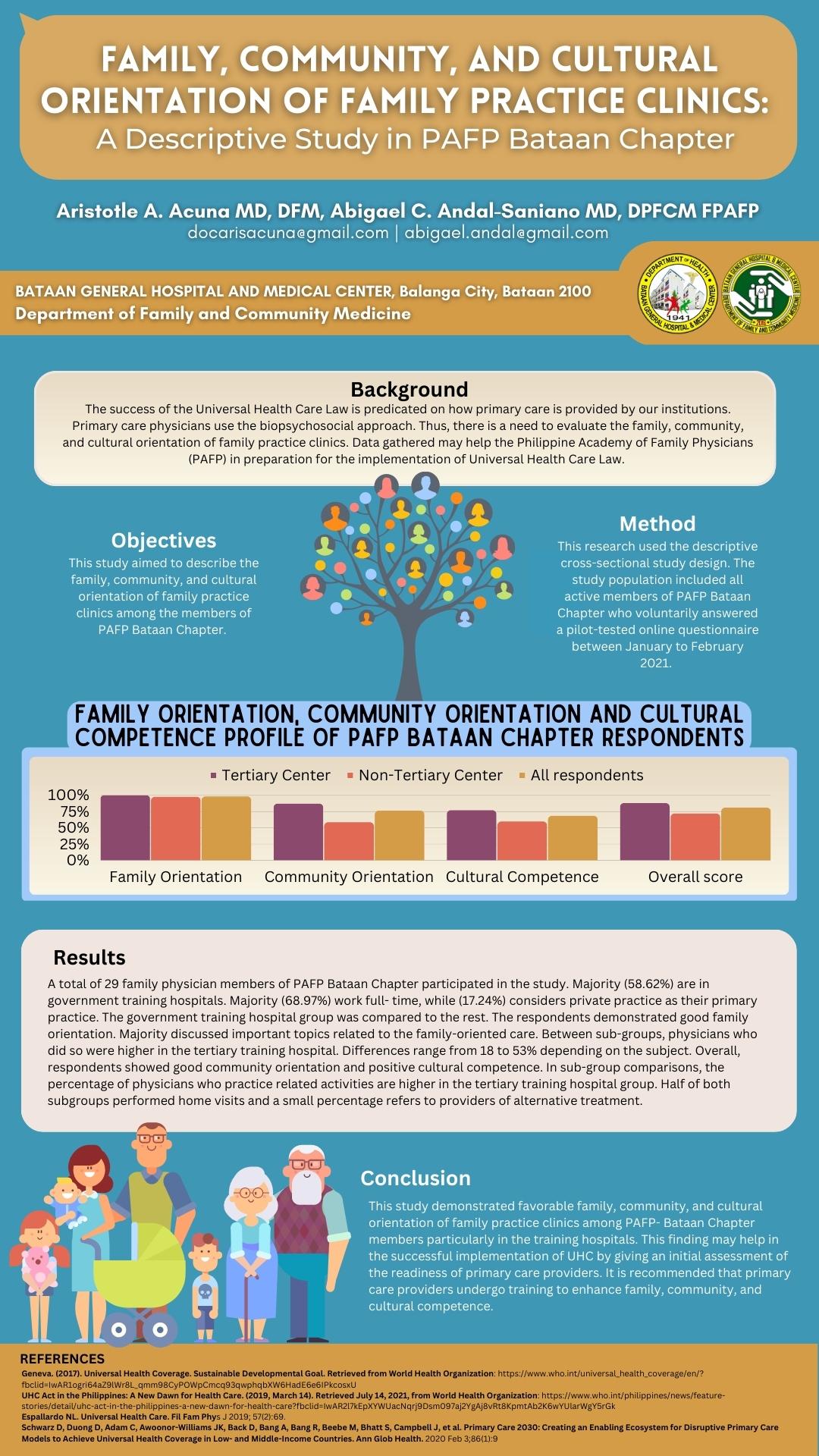 #8 Family, Community, and Cultural Orientation of Family Practice Clinics: A Descriptive Study in PAFP Bataan Chapter
Researcher: Aristotle A. Acuña, MD
Institution: Bataan General Hospital and Medical Center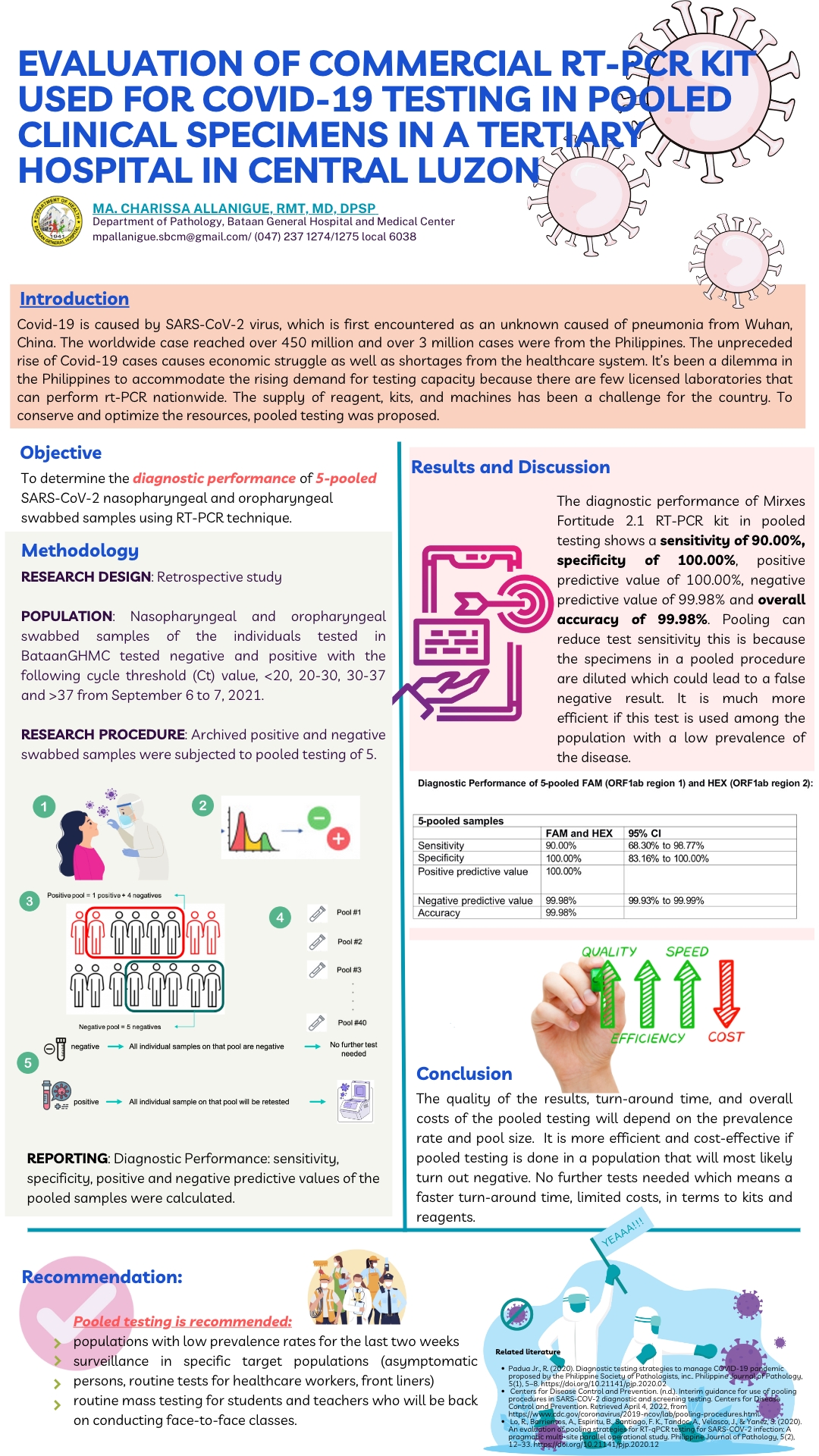 #9 Evaluation of Commercial RT-PCR Kit Used for COVID-19 Testing in Pooled Clinical Specimens in a Tertiary Hospital in Central Luzon
Researcher: Ma. Charissa P. Allanigue, MD
Institution: Bataan General Hospital and Medical Center